Hering Berlin presents new objects from the Evolution tableware collection
Hering Berlin is extending its Evolution Collection with five new introductions designed as art pieces for the table. Thanks to their unique shapes, these latest designs from Stefanie Hering will enhance Hering Berlin's range with organic-looking reliefs complemented by sculptured asymmetrical folds and curves.
Discover more
Stefanie Hering's art objects: porcelain in purist beauty and new forms
Stefanie Hering not only demands absolute mastery of handling the material porcelain from all artisans she works with as a product designer for her collections: she too has this mastery. She has been constantly seeking an intensive dialogue with this exciting material for over thirty years. This search can be seen in all her unique tableware collections, but is particularly evident in Stefanie Hering's art editions. The trained and certified master ceramicist abandons the narrow framework of objects designed for a specific purpose, instead designing and experimenting freely with the possibilities of the material and further developing traditional processes, shapes, decorations, glazes, and firing processes. Rarely can the purist beauty of white, unglazed bisque porcelain be experienced more vividly and with greater diversity than in these objects at the intersection between functionality and sculpture.
Extraposition
Extraposition
Like folded paper
Stefanie Hering abandoned the traditional production method for porcelain vessels when designing the "Extraposition" edition with tall, rectangular vessels that look as if their shape is constantly changing. Instead of plaster, she made the corresponding models with sheets of Thai Ratchaburi clay, which retains its shape particularly well. She deliberately left rough edges, typical for clay but less so for porcelain vessels, and incorporated the fact that the shapes shift and change during the firing process into the design concept. The surfaces of the vessels are a clever contrast to this: some parts are in a polished bisque that looks almost like folded paper, while others have a slightly relief surface featuring fine lines created using thin shellac stripes applied by hand before firing, which create an interplay of light and shadow, emphasizing the conciseness of the angular shapes.
Limited collection. Price on request [email protected]
Sublime conversation
Sublime conversation
Design in transformation
Playing with porcelain traditions is a constant part of Stefanie Hering's creative process. Rarely, however, is her work so close to these traditions and at the same time as strikingly modern as in "Sublime Conversation". For this series, Stefanie Hering developed six plateaus in bisque porcelain in collaboration with the Schwarzburger Werkstätten in Thuringia and based on the baroque "Conversational Pieces" archived there, which were used not just to serve food, but also to stimulate conversations around the table at court. The plateaus can be displayed as art objects, but can also be used in Michelin-starred restaurants or in private table settings, and provide no less fuel for conversation today than their historical counterparts once did.
Single pieces. Price on request [email protected]
Masterpieces
Masterpieces
A masterful balancing act
The enormous bowl with a diameter of 80 centimetres, based on the decoration from Stefanie Hering's "Cielo" collection, is an artisanal masterpiece that pushes the limits of what is even possible with porcelain. Even the dimensions themselves are a challenge, since the objects are made and fired without any aids or supports and so could easily collapse. On top of this is the perforation, carefully bored by hand, which further reduces the stability of the material. Only absolute masters of their craft are capable of producing this bowl under the guidance of Stefanie Hering – which is why it is only available in mini-editions of no more than four copies each.
Single pieces. Price on request [email protected]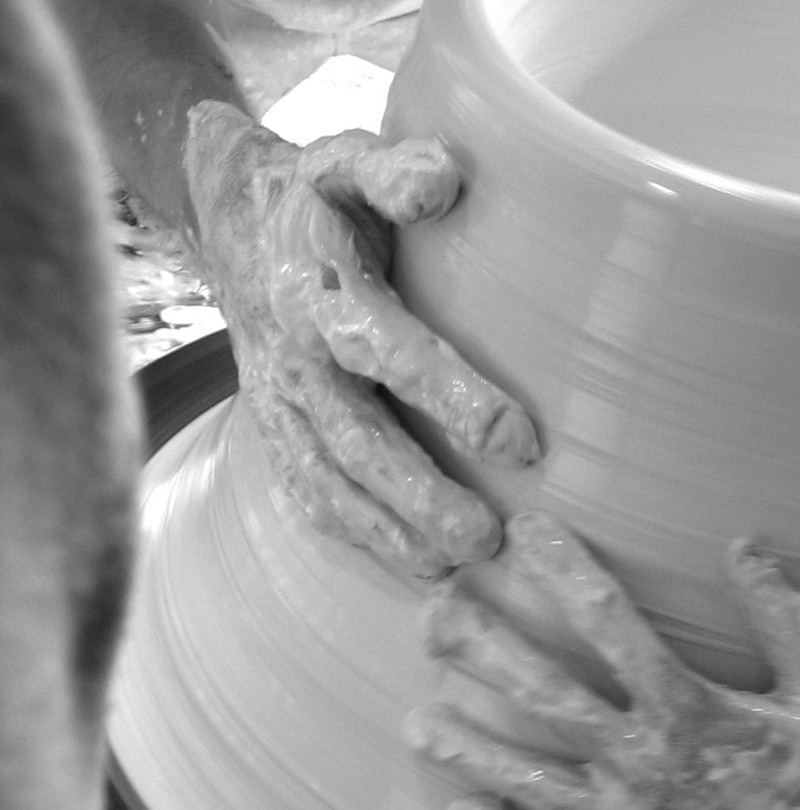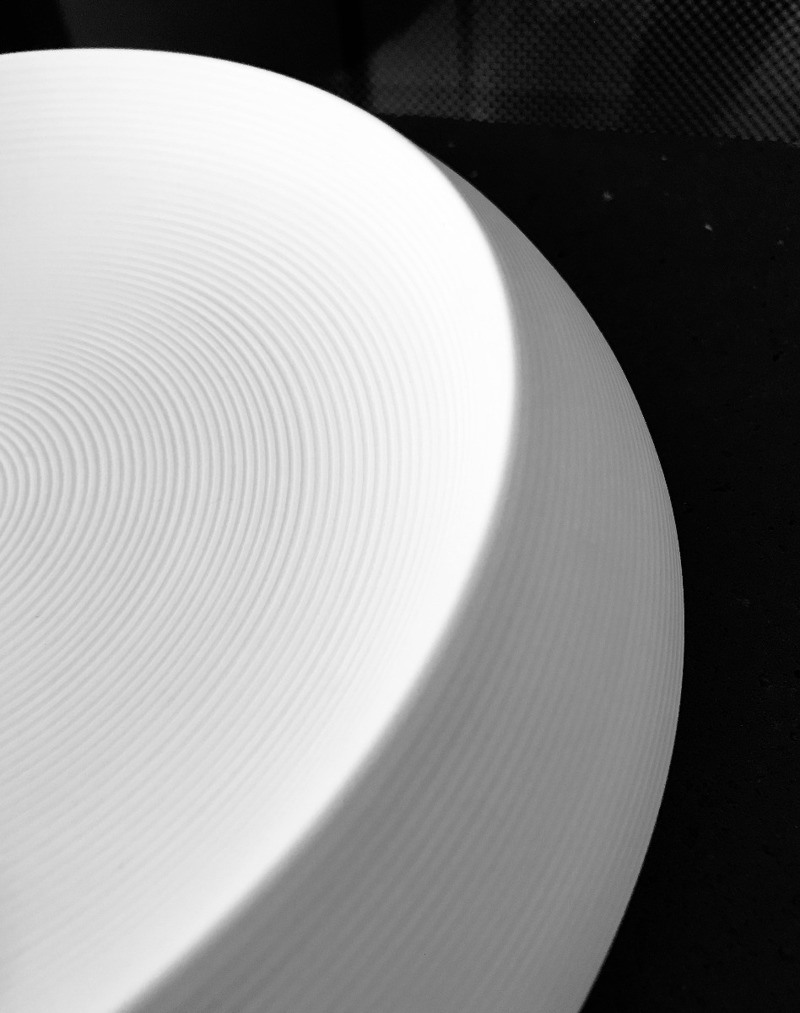 Feel the character of porcelain
Porcelain in its purest form - rough yet smoothly glazed, dazzling white yet at the same time patterned with tiny grooves, extremely thin yet extremely solid: Stefanie Hering combines all these opposites in the "Turn" objects, which she shapes with her own hands. Pieces in this series have no front or back, no top or bottom; they can be used equally well as a bowl or a pedestal and only reveal their multifaceted nature when they are not just looked at, but actually picked up and twisted round and turned over. In addition to the thickness of the porcelain, which varies between two millimetres and four centimetres, the sheer weight of these objects is also striking: depending on the diameter (between 15 and 25 centimetres), they weigh a considerable five to eight kilograms. They thereby break with every previous optical and haptic experience of porcelain – these bowls are neither fragile nor light – and thus open up an astounding new approach to the material porcelain.