Hering Berlin presents new objects from the Evolution tableware collection
Hering Berlin is extending its Evolution Collection with five new introductions designed as art pieces for the table. Thanks to their unique shapes, these latest designs from Stefanie Hering will enhance Hering Berlin's range with organic-looking reliefs complemented by sculptured asymmetrical folds and curves.
Discover more
Trunkshow OCEAN | New designs by Stefanie Hering Online, 15-29 June 2021
Analogous to World Oceans Day, designer Stefanie Hering presents an exciting design extension of her classic and global success OCEAN in June. The new pieces will be presented exclusively online as part of a trunk show from 15 to 29 June on the Hering Berlin channels. They will be available there and only during the Trunkshow period in the form of eight sets curated by Stefanie Hering. Those who purchase one of these sets during the Trunkshow can also look forward to various add-ons as a gift with their order. These add-ons are special editions that will not be available in stores.

Shop Trunkshow OCEAN
It was the first dinnerware to discover the beauty of the world's oceans as inspiration for a décor and to capture it in biologically precise, but at the same time immensely aesthetic blue drawings on pristine white bisque porcelain. The OCEAN Collection by designer Stefanie Hering with illustrations by Eleonore Gerhaher became an international success - not only with top chefs who use it to present the most refined seafood creations, but also with everyone who wants to spread a bit of beach and holiday atmosphere at the table.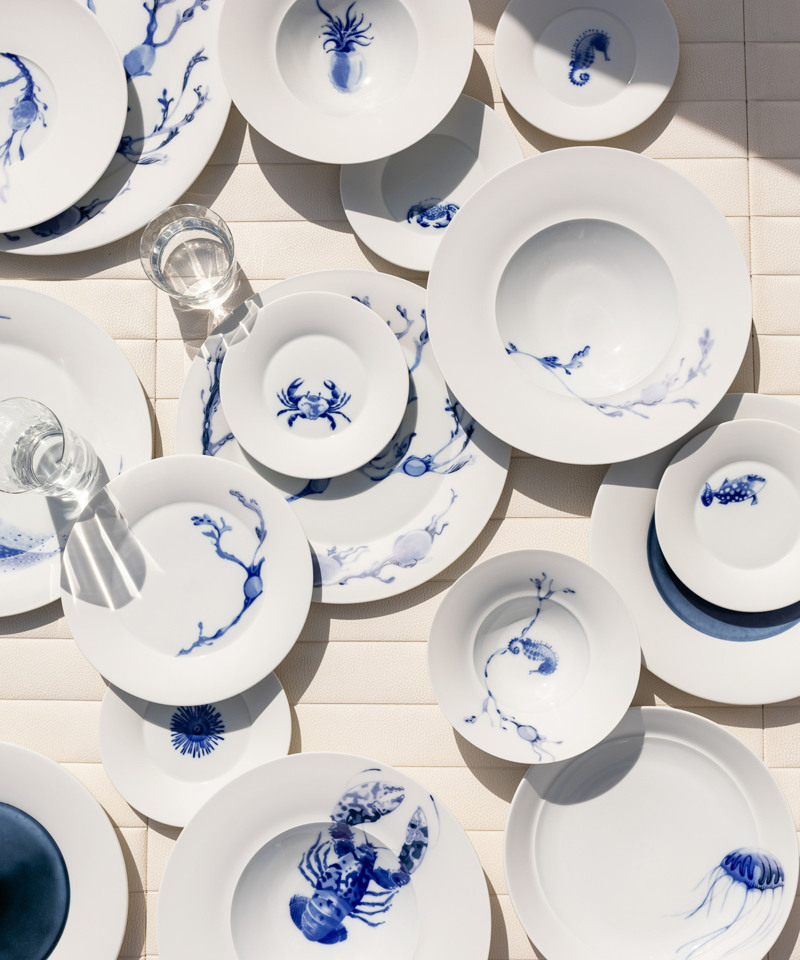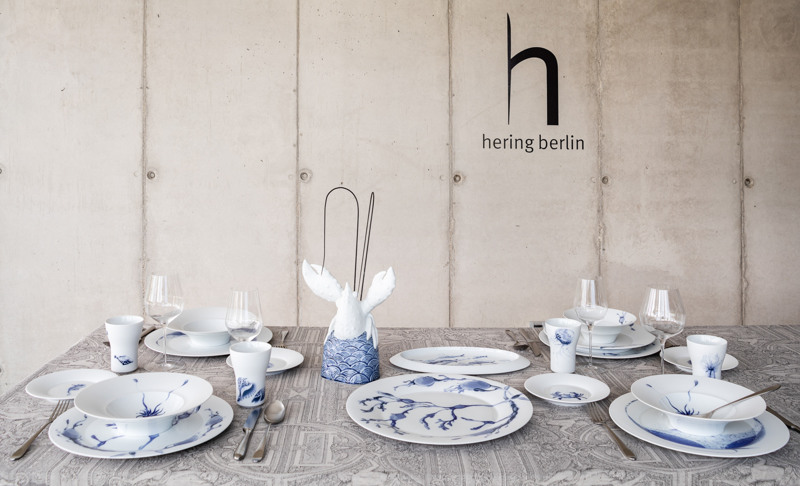 Now, Stefanie Hering is presenting an extension of her classic for the first time exclusively on her online channels as part of a special Trunkshow from 15 to 29 June:
Some new tableware shapes have been added, but above all some new motifs by illustrator Eleonore Gerhaher, which not only complement the existing OCEAN range, but at the same time think further about its context.
In addition to seahorses, shoals of herring, barnacles with filigree tentacles, majestic rays or the curved knobbed arms of octopuses, a motif has also been introduced that comes not from the fauna but from the flora of the sea: Bladderwrack.
Its ramifications and bulges decorate plates, among other things, but especially large place settings and thus create the basic habitat for many animals from the OCEAN repertoire: the ray can float over it, the seahorse can hide in it, fish and crabs can swim over its arms or dance through it.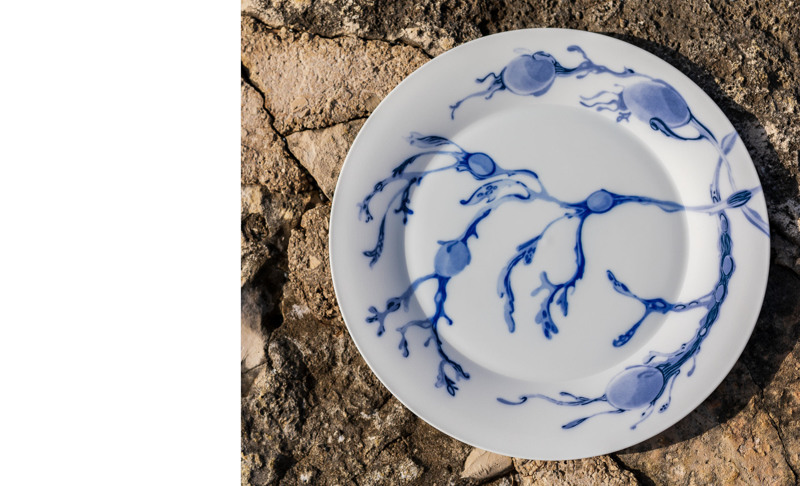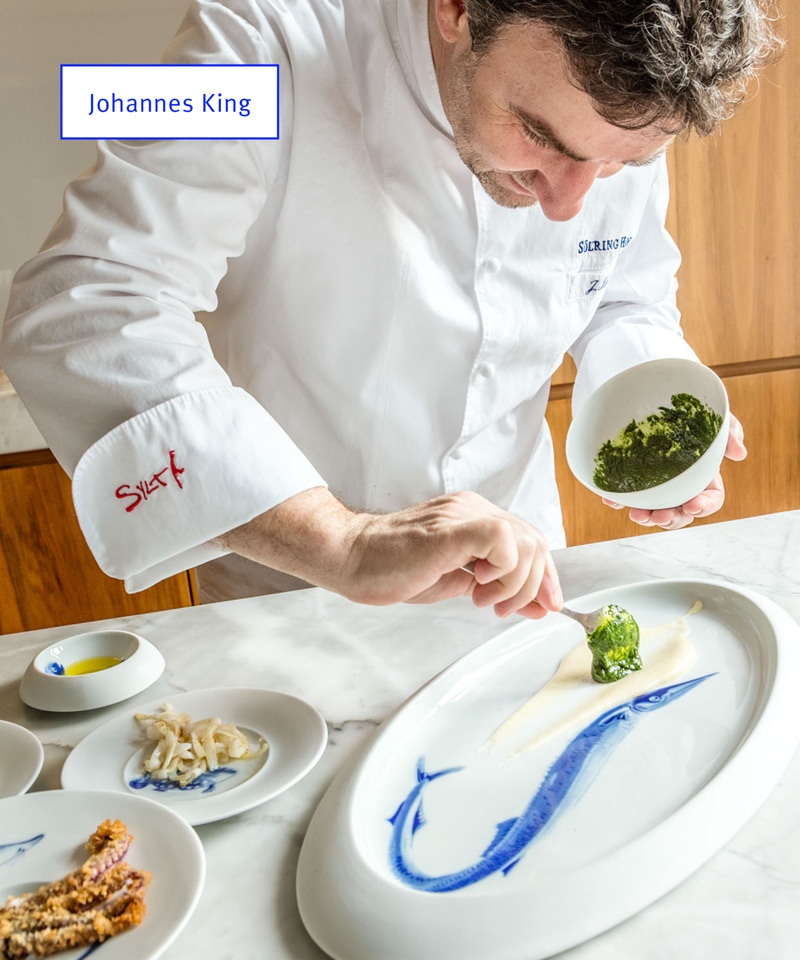 It's no wonder that top chefs who have dedicated themselves to seafood are extremely enthusiastic about this expansion, such as Johannes King from Söl'ring Hof on Sylt and Emanuele Scarello from Agli Amici in Udine, who have both been working with elements of the OCEAN Collection for years. They have already tested in their restaurants how the newly designed objects can be used to great effect in the gourmet kitchen. Johannes King will report on his experiences live in conversation with Stefanie Hering on Instagram, @hering_berlin on 21 June at 5 pm.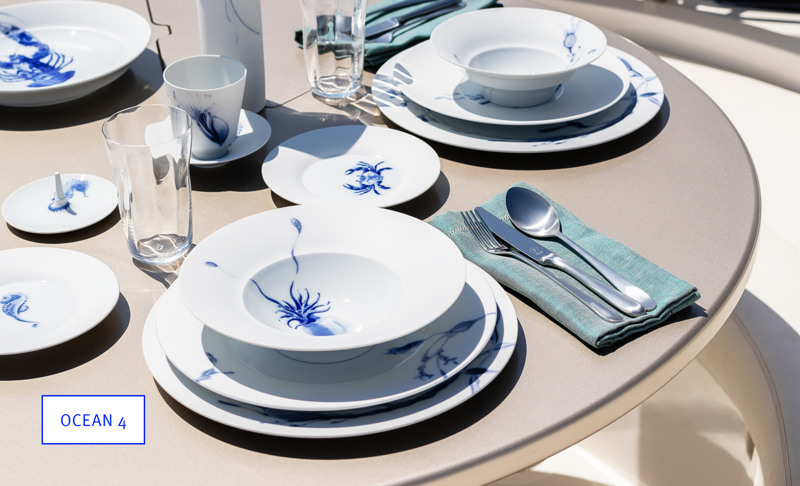 For example, there is a versatile, complete service for four people: OCEANS 4. Or the MOULES et FRITES set, which is especially tailored to the enjoyment of oysters and other fine seafood and includes an oyster bar. The SEASIDE TEA set, to name another example, invites you to maritime tea pleasures.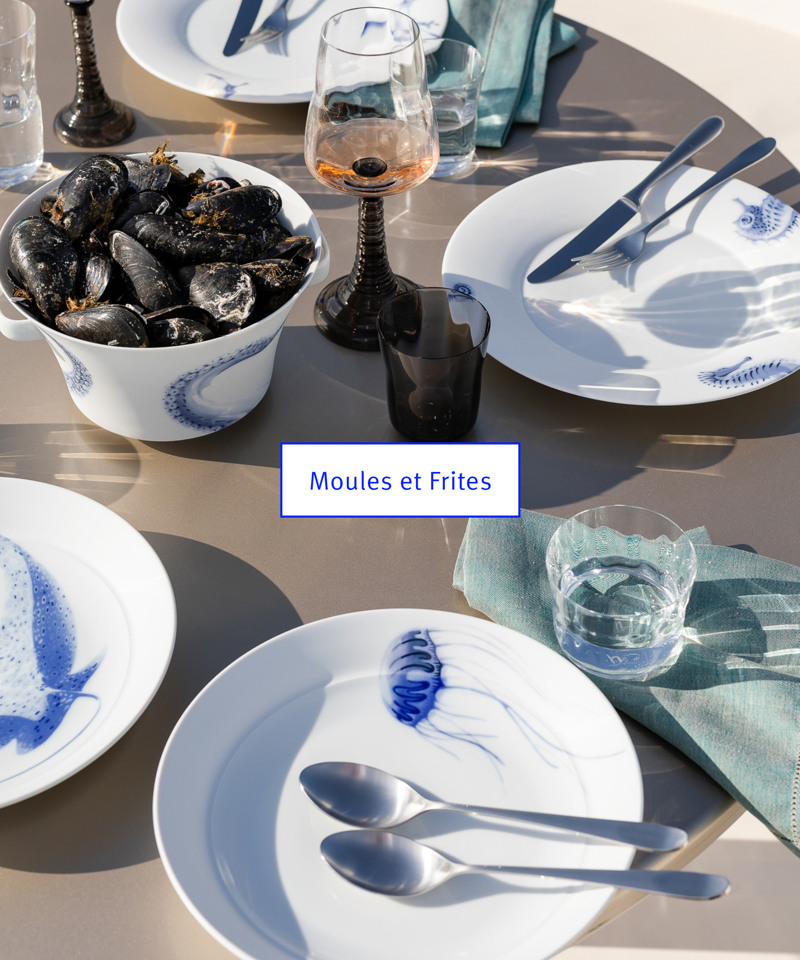 Those who order one of the eight sets as part of the Trunkshow can also look forward to various add-ons as a gift with their order: whether a shell pot or serving bowl, these add-ons are special productions that will not be available in stores.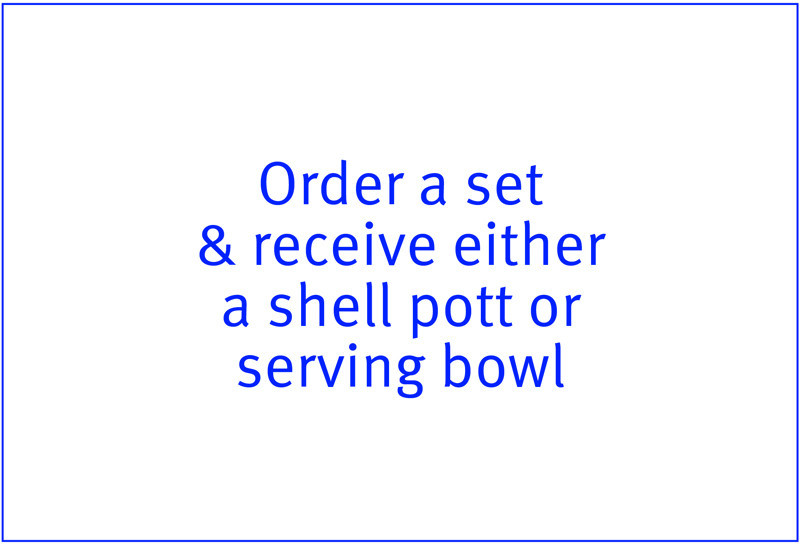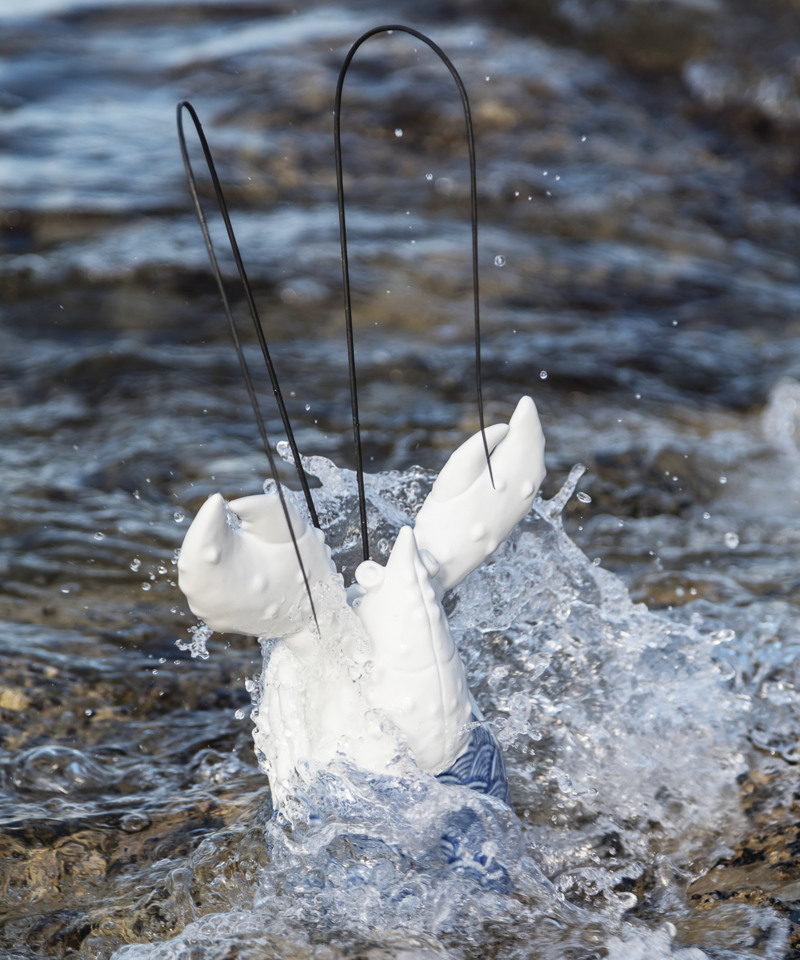 To transform the table into an underwater world, there are various decorative elements in bisque porcelain, also designed by Stefanie Hering, in addition to the service elements from OCEAN. These objects - various abstracted fish as well as a lobster literally rising from the sea - round off a beautiful dining table arrangement and can also be distributed throughout the room to set pointed accents. They allow us to immerse ourselves completely in this imaginative world and are a constant reminder of how precious the richness of this fragile marine world has become.
Photographer – Jens Bösenberg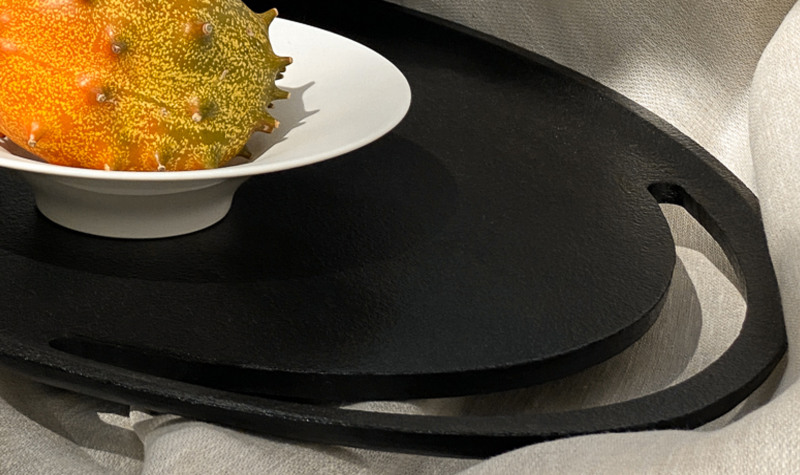 ICONS Edition: extension IRON CAST
Stefanie Hering expands her ICONS series with objects at the interface between functional design pieces and art sculpture with three very special objects. In doing so, Hering devotes herself to the interaction of porcelain with a material that looks back on an equally great tradition of craftsmanship: Cast iron. The three objects are each unique, produced in a strictly limited edition from 2008. Read more...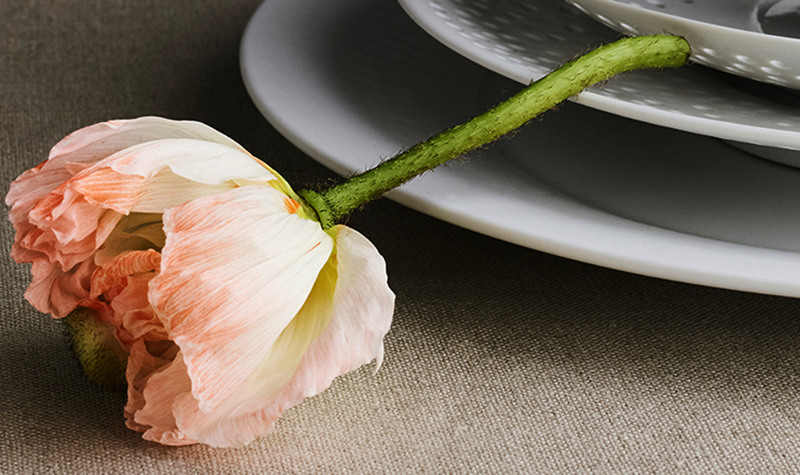 WEDDING | Hering Berlin
A decision for life that is not only manifested in the word "yes": Those who get married move house or redecorate; but in any case, objects are on the wedding lists that accompany the couple through their future together. The most common wish: a dinner service. Read more...