Hering Berlin presents new objects from the Evolution tableware collection
Hering Berlin is extending its Evolution Collection with five new introductions designed as art pieces for the table. Thanks to their unique shapes, these latest designs from Stefanie Hering will enhance Hering Berlin's range with organic-looking reliefs complemented by sculptured asymmetrical folds and curves.
Discover more
Online TrunkShow: "Spring Table", 02-09 March 2021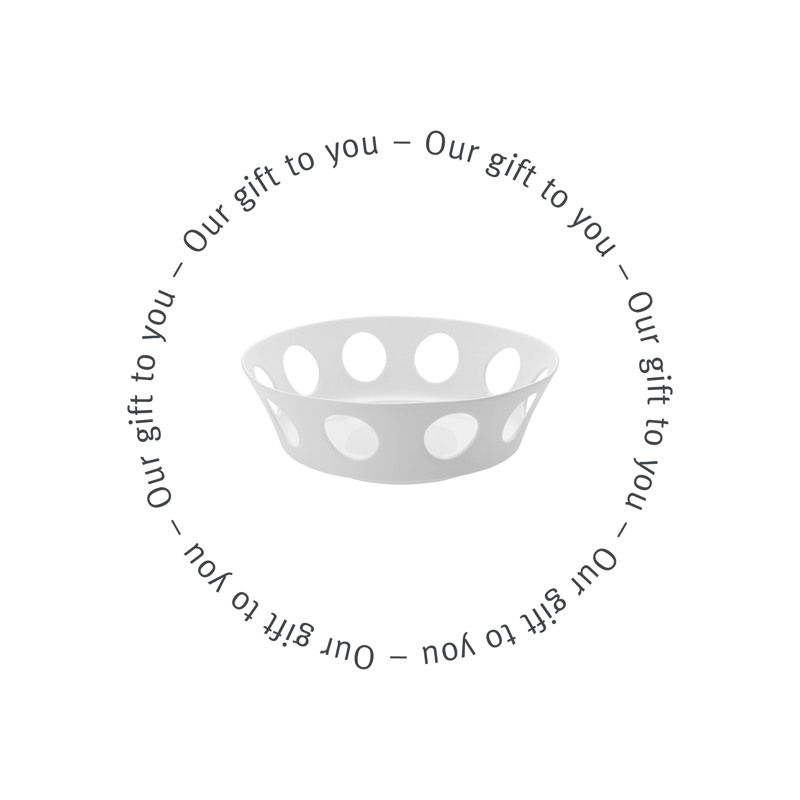 Emerald. It is the colour of spring. Of new beginnings. Of hope: deep, rich green. Porcelain designer Stefanie Hering spent months experimenting with a glaze that shimmers in vibrant shades of green, from emerald to bottle green. She will be presenting the first objects from this new collection, Emerald, from 02-09 March 2021 as part of an online TrunkShow that fits perfectly into this time of year and at the same time takes into account the diverse decoration and combination possibilities: Spring Table.
The sets and table settings presented will be stylishly complemented by accessories from Hering Berlin's partners, Leitner (linen), Lobmeyr (glass) and Pott (cutlery). Selected pieces from the three partners can also be purchased at attractive SpringTable prices in the Hering Berlin online shop at www.heringberlin.com during the TrunkShow.
Our gift to you: with the purchase of each set, you will receive the Cielo bread basket as well. This offer is only valid during the TrunkShow period, from 02 to 09 March 2021.
Emerald, whose effect is all about the delightful contrast between reflective, deep green glazed sideboard surfaces and rims of velvety, dazzling white bisque porcelain, is the fourth of the colourful iridescent glazes with which Stefanie Hering opened up a whole new dimension to porcelain decoration methods.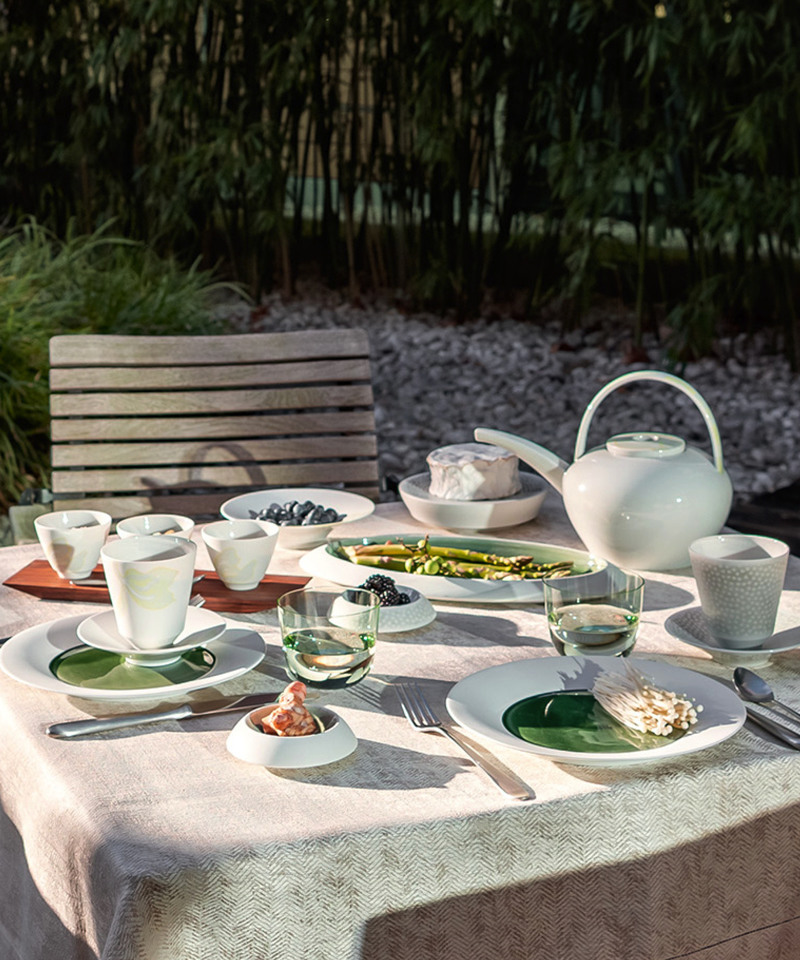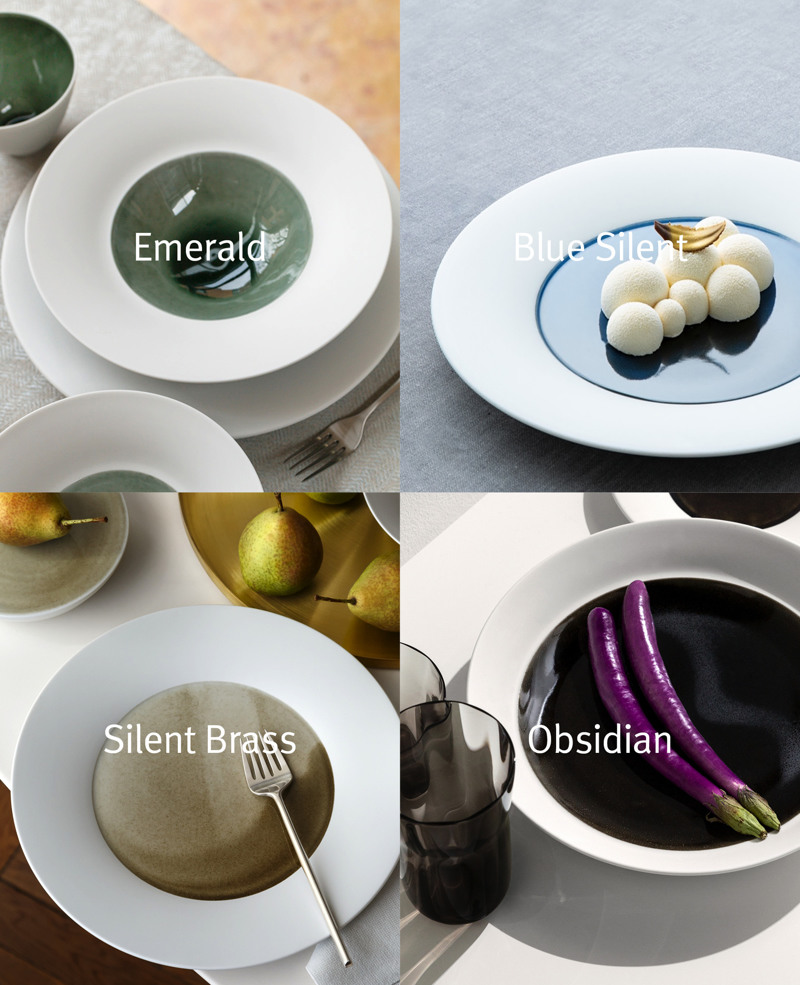 This is because coloured glazes based on mineral ingredients are characteristic of fine ceramics, especially those from Asia, but they cannot withstand the comparatively higher temperatures at which porcelain has to be fired. Hering started with the radiant Blue Silent décor; then she first presented her delicate "champagne glaze" Silent Brass. With the deep black Obsidian Collection, at the latest, she achieved a real innovation - black in this density and power was previously inconceivable on porcelain for technical reasons. The equally powerful colour of Emerald now rounds off the round of glaze shades reminiscent of natural elements - blue, sand gold, black and emerald green.

Shop 'Emerald'

Shop 'Blue Silent'

Shop 'Silent Brass'

Shop 'Obsidian'
As with the other glaze collections, no two pieces in Emerald are the same. Because the colour is poured by hand over every plate, every platter, every plateau and is always applied differently to the surface.
It is also thanks to this manual process that the coloured areas appear calm on the one hand, but always lively in themselves on the other. "Months of experimentation were necessary until we found out how to apply the glaze stably to the objects and at the same time retain the clearly defined bisque edge," Stefanie Hering describes the process of creating Emerald. "Green as a colour is a real challenge in porcelain finishing."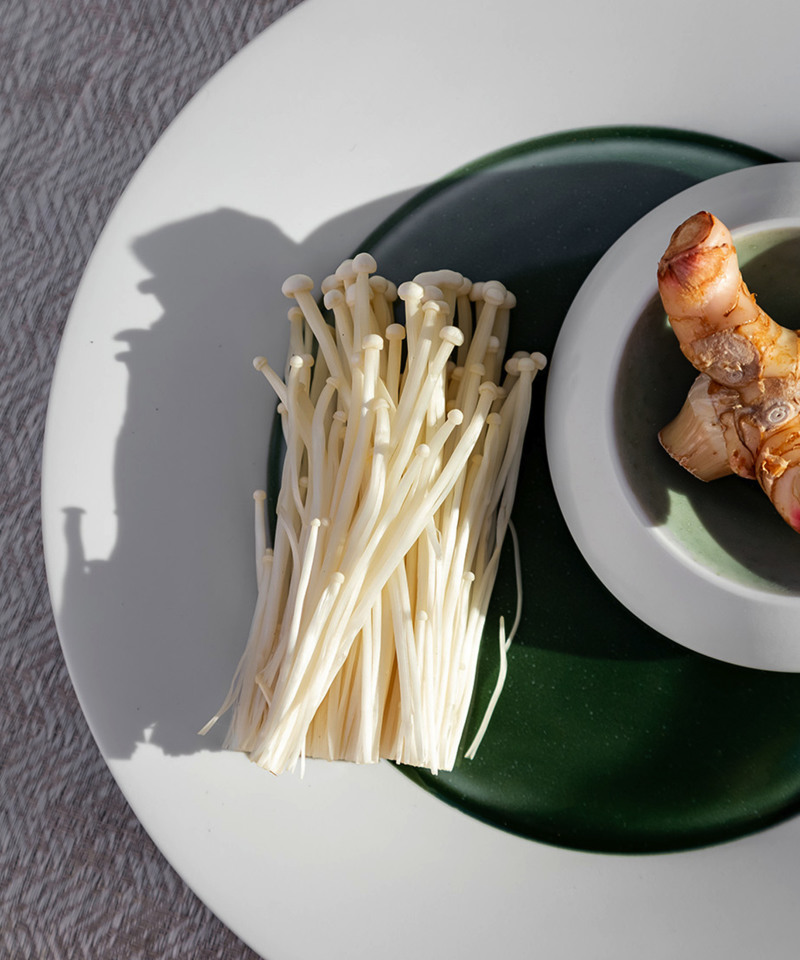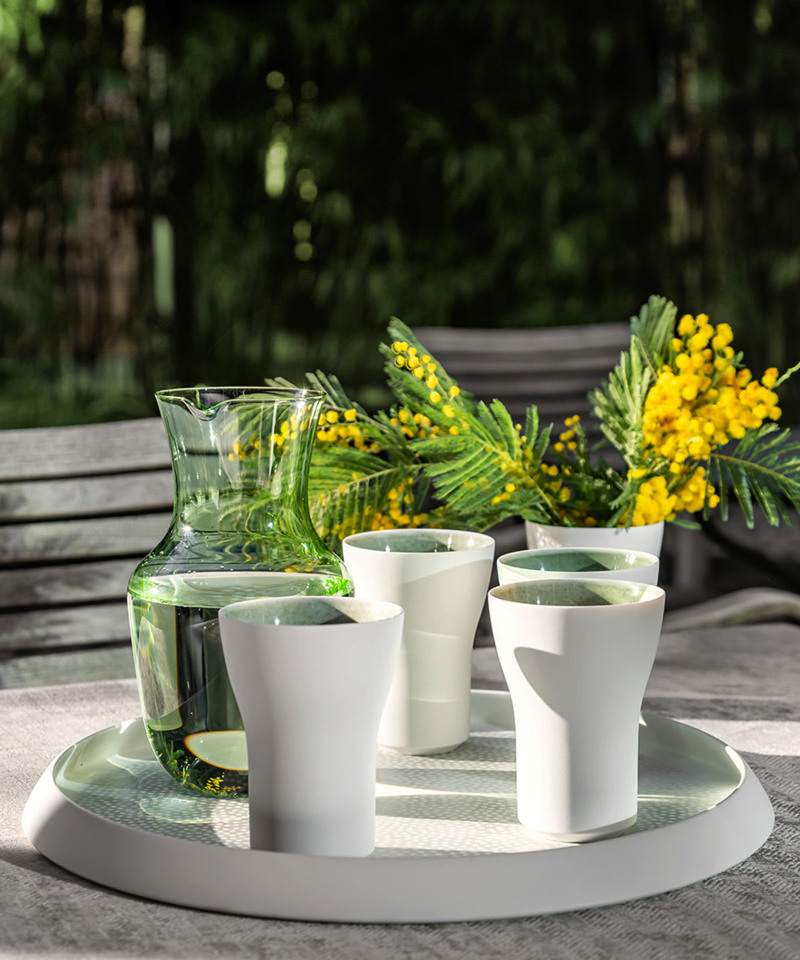 The result of this product development is all the more revolutionary. The completely new shade in Hering Berlin's colour spectrum offers a maximum of possibilities for the manufacturer's portfolio, which is based entirely on the principle of "mix & match".
The objects presented in the Spring Table TrunkShow give a first taste: they include plates and platters from the new Emerald Collection; trays, set plates, saucers and small bowls from the Illusion Collection in a soft, nude shade interspersed with white light dots; and small bowls, cups and plates from the abstract-floral Palmhouse X décor. The composition is perfect for the first lunch or brunch outdoors, celebrating the arrival of spring and perhaps also the possibility of finally being able to sit down together outside again for a meal. In any case, the green stock from Emerald goes well with all the delights that spring has to offer, from green asparagus to wild herbs, says Stefanie Hering. "Green belongs to every vegetable - nothing grows without leaves. In this respect, every food feels at home on a green plate; strawberries look like they're in a green meadow on it."