Hering Berlin presents new objects from the Evolution tableware collection
Hering Berlin is extending its Evolution Collection with five new introductions designed as art pieces for the table. Thanks to their unique shapes, these latest designs from Stefanie Hering will enhance Hering Berlin's range with organic-looking reliefs complemented by sculptured asymmetrical folds and curves.
Discover more
Piqueur by Hering Berlin
Enjoying the beauty of autumn with splendour and pleasure
It is already part of Hering Berlin's tradition to tell entire stories with services, to provide material for conversation and to put diners in a mood appropriate to the meal or the season. Stefanie Hering continues this leitmotif in the innovative, entirely handcrafted Piqueur collection: elements of the collection, decorated with hunting motifs, allow the beauty of autumn to be celebrated with splendour and relish.
Piqueur picks up the motif of the hunting service once appreciated at princely courts, but translates it into a modern language: with a loving stroke and sometimes a charming wink, the grey-on-grey décor shows animals and plant details from the woods, fields and mountains: a pair of snuffling hedgehogs, a lacing fox, a majestic boar or a deer crouching in the meadow. In between, plates, cups and bowls are strewn with pine branches or acorns.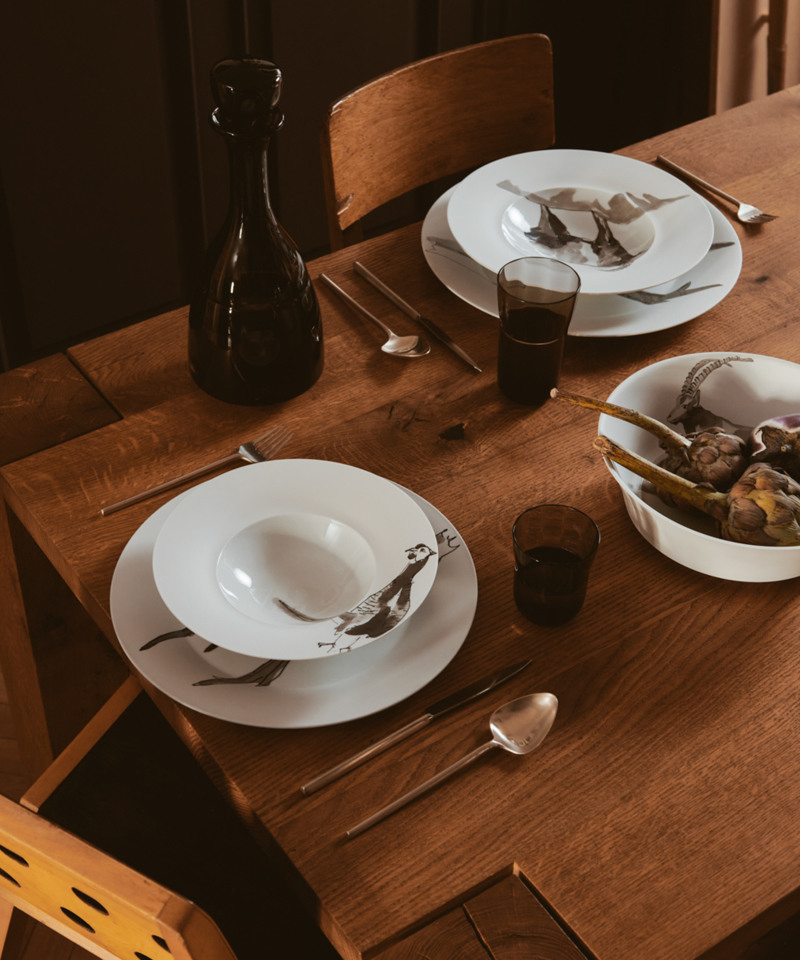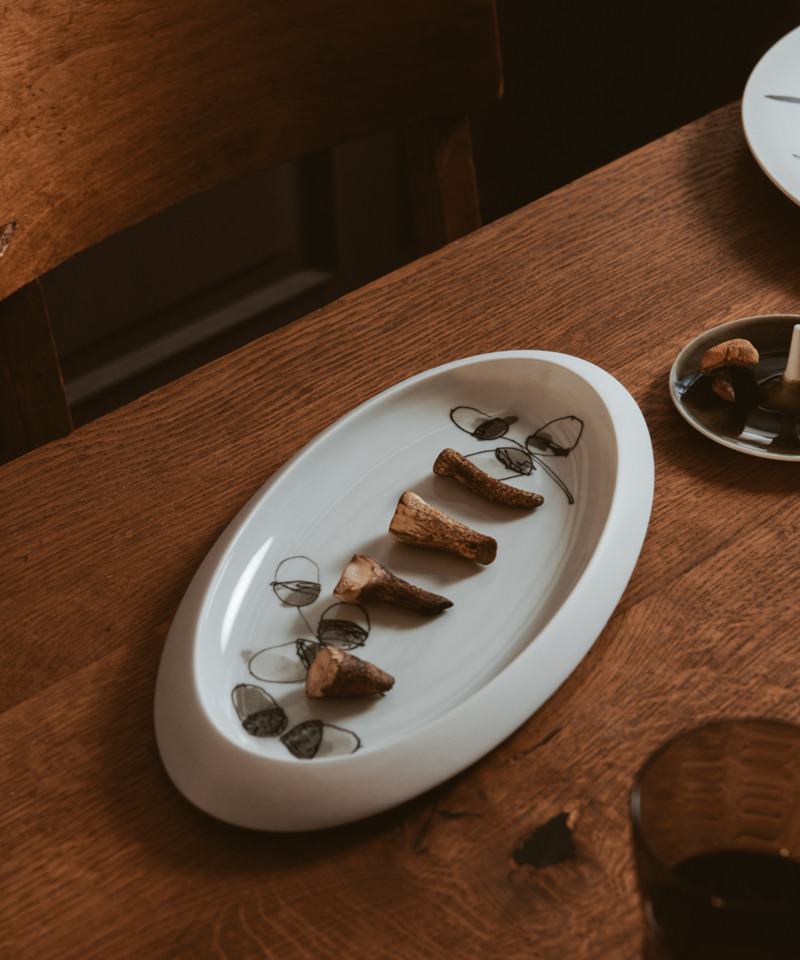 The shapes on which these motifs are placed correspond to the timelessly simple vocabulary that designer Stefanie Hering developed for Hering Berlin: with wide-rimmed, unfussy plates, slightly curved conical bowls or mugs, a teapot composed of clear geometric shapes and oval serving platters.
Each of these objects, designed by hand by masters of their trade, is characterised by the central design element of Stefanie Herings' collections: the interplay of velvety, hand-cut bisque porcelain and mirror-like glazed surfaces. The hunting and forest motifs of Piqueur are alternately laid over one or the other, or even over both of these surfaces, thus creating an ever-changing effect.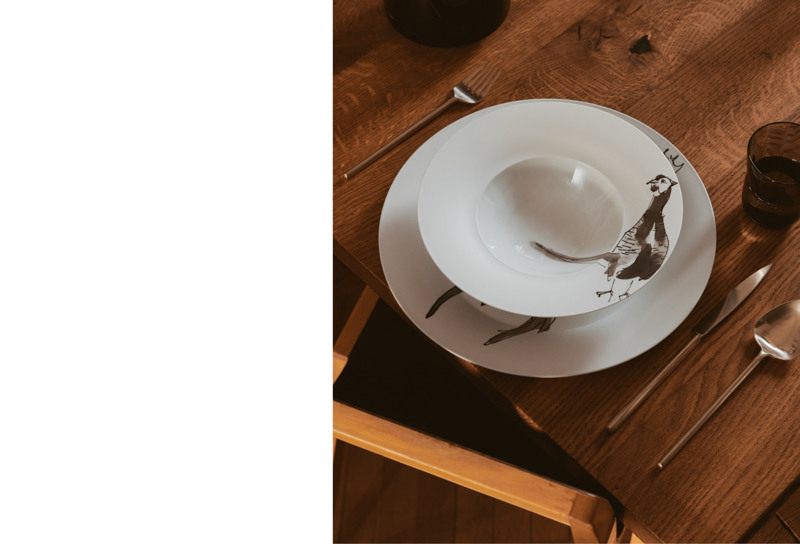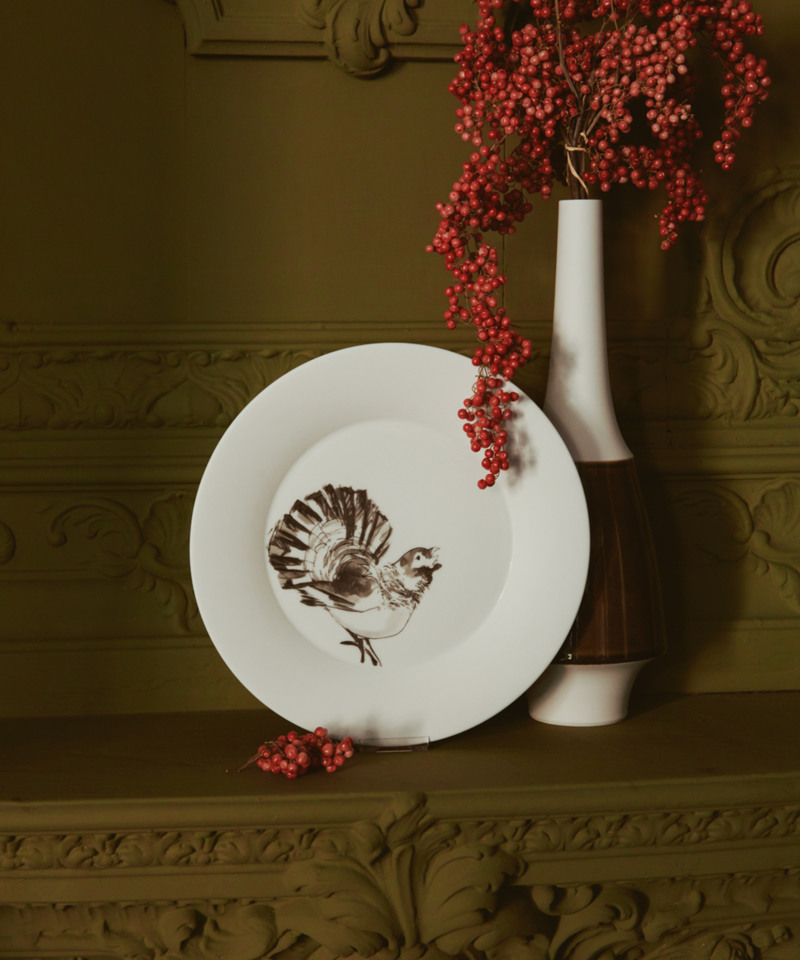 Mix & Match
Like all collections from Hering Berlin, Piqueur is designed according to the "mix & match" principle and can be combined with various other decors. Particularly attractive, especially in autumn, is the combination with the precious Polite Gold objects. Polite Gold captivates with large-area sections on which polished gold has been applied. This strong accent underlines the grey drawings of the Piqueur Collection in a particularly beautiful and atmospheric way.

Because the combination of colour and motif always creates an autumnal, festive impression at Piqueur - and an impressive moment of playful splendour that harks back to the courtly hunting services of past centuries - and is guaranteed to provide just as much inspirational conversation.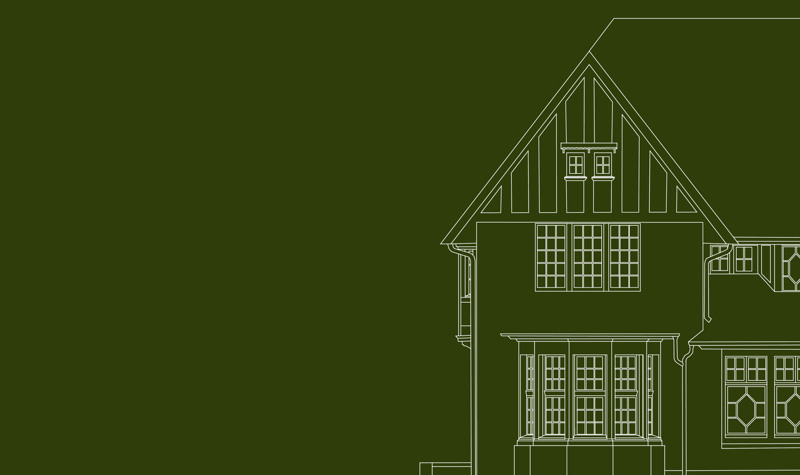 We're moving!
Creative ideas need space to grow. After our projects have expanded, we are leaving our previous Berlin showroom P98 (Potsdamer Straße 98) on 01 November and expanding our space! True to the motto: "Und dann nischt wie raus nach Schlachtensee…" ("And then let's go to Schlachtensee..." - A little tip about the new location in original Berlinese).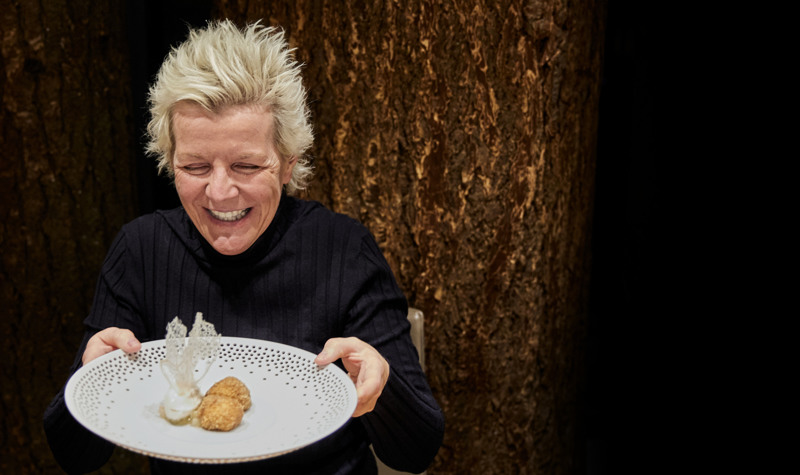 Masters of their trade in dialogue:
How top chef Christian Jürgens and international award-winning designer Stefanie Hering inspire contemporary table culture.
For Hering Berlin's head designer Stefanie Hering, the discussion about the wishes and needs of top chefs is not infrequently the initial spark for creating objects that later also become signature pieces for herself. One of the most important of these initiators is one of the German chefs of recent years, Christian Jürgens.