Hering Berlin presents new objects from the Evolution tableware collection
Hering Berlin is extending its Evolution Collection with five new introductions designed as art pieces for the table. Thanks to their unique shapes, these latest designs from Stefanie Hering will enhance Hering Berlin's range with organic-looking reliefs complemented by sculptured asymmetrical folds and curves.
Discover more
Porcelain Tea sets from Hering Berlin; Timeless elegance
The biscuit and glazed porcelain tea sets in our many collections are characterised by smooth lines and timeless elegance. Tea cup, saucer, tea pot, tea bowl and tray together form a visually striking ensemble. The handmade tableware is a mixture of traditional ceramics and sculpture. Making these products feel precious, durable and fine, as Porcelain was supposed to from ancient times onwards.
All Porcelain Tea Sets from Hering Berlin
are handmade by Artizan Experts
Hering Berlin's tableware collections are manufactured in a handcrafted production according to traditional manufacturing techniques. Stefanie Hering carefully selects all the artisans in her creative team. Like herself, they must have immense experience in working with porcelain as a material. The designer's designs not only explore the limits of what is feasible, but often go beyond them with newly developed production and glaze processes.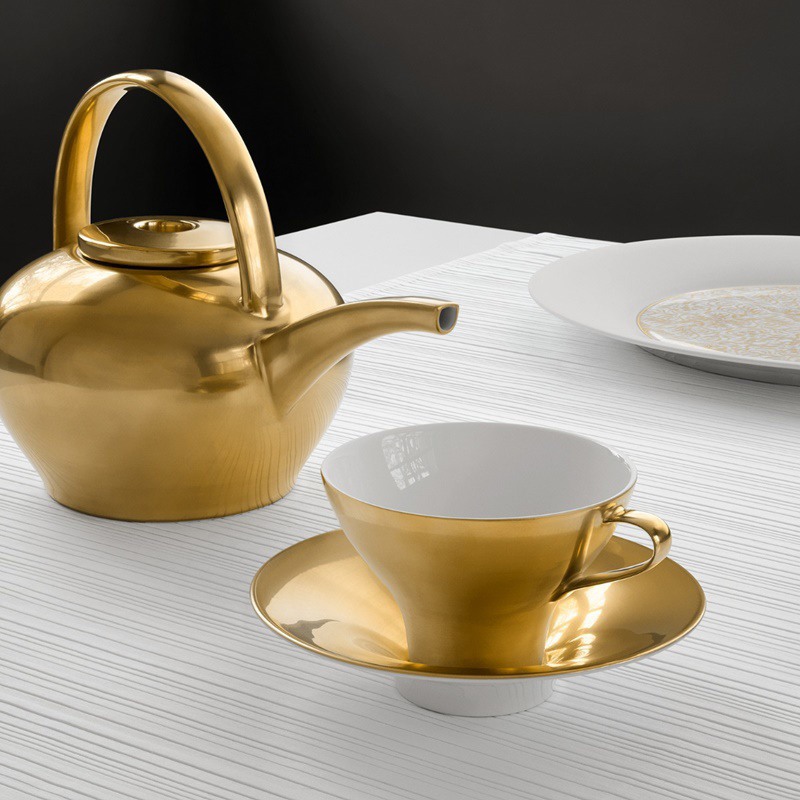 Tea set in the interplay of light and shadow
The tea set creates new standards with regard to aesthetics and personality. Stefanie Hering's characteristic lines form a subtle, but also idiosyncratic reflection. Teacup, teapot, tea bowl and tray are characterised by the playful fusion of light and shadow. The handmade biscuit porcelain makes the sets a masterpiece.
Stylistic Trinity
The teapot is an eye-catcher on its own. The simplicity of the design lends a glamorous opulence while remaining timeless. As versatile as life is, the forms play an elegant game of design and pleasant usability. The mild sheen of the handcrafted surface harmonises perfectly with the reflection of the other elements of this tea set. The teacup of this collection is another example of the stylistic elegance of Hering Berlin products. Stefanie Hering's signature lines are more strongly present here and enable a sophisticated interplay of forms and light. The reflections in the relief are characteristic of the harmony that the set gives your tea table. The tray rounds off this stylistic trinity. The matte, washed-out surface with the inwardly turned rim seamlessly adapts to the shine of the teapot and tea bowl. Here, too, the simple lines on the outer edge form the personal signature of Stefanie Hering.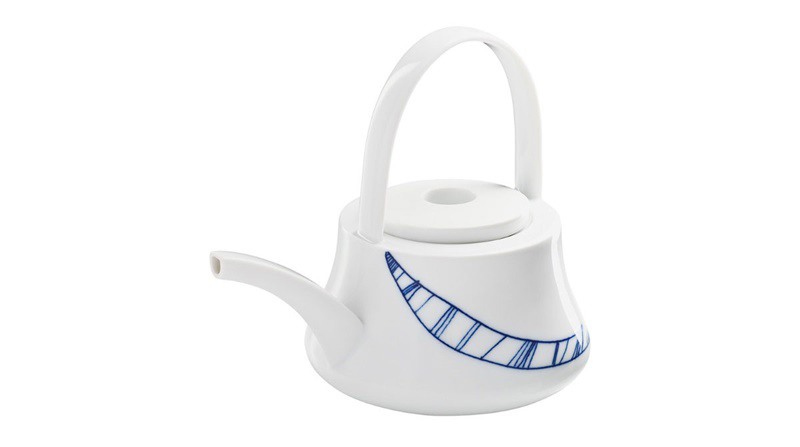 Ready for your questions, get in touch
Do you have any questions regarding our Porcelain Dinnerware collections? About a specific product or how to get together a complete tablesetting? We are here for you! Call us on the phone, book a virtual store appoint for a video call, email or use our contact form so we can get in touch. We'd love to assist you!