Hering Berlin presents new objects from the Evolution tableware collection
Hering Berlin is extending its Evolution Collection with five new introductions designed as art pieces for the table. Thanks to their unique shapes, these latest designs from Stefanie Hering will enhance Hering Berlin's range with organic-looking reliefs complemented by sculptured asymmetrical folds and curves.
Discover more
Individual porcelain by Hering Berlin. Made by hand – according to your personal wishes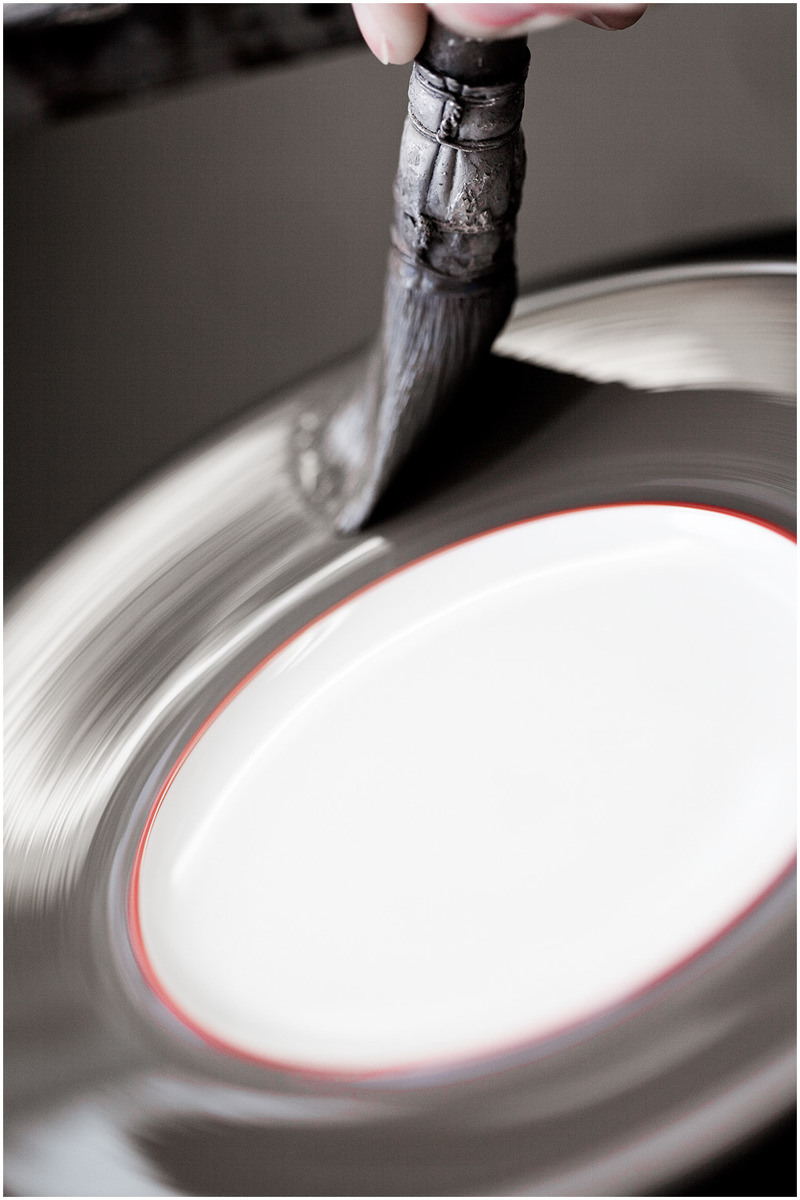 Every porcelain object by Hering Berlin is unique anyway – because they are handmade, no two pieces are exactly the same. But in a manufactory, where the designer is also the owner, a trained ceramicist and as such directly involved in the manufacturing process, almost any personal request can be fulfilled – from a fine, discreet monogram, developing an individual pattern to designing an entirely unique own piece of porcelain or service. Be it a bridal wedding service in the bride's favourite colour, plates tailored precisely to a gourmet restaurant's interior and culinary philosophy, a corporate gift with a special individual touch or an unforgettable prize trophy that has been honoured by the recipient for years: We look forward to your ideas, dreams and concepts, which we would be delighted to discuss with you, check their feasibility and then let them become reality in our manufactory. Please contact us at [email protected]
The fitting form for any wish
Stefanie Hering has developed more than one hundred different forms for service parts and porcelain objects over Hering Berlin's 20-year existence; a treasure that is constantly growing and from which a customer with the desire for individual, personalized porcelain can draw on to their heart's content. Of course, we would be delighted to advise and accompany you throughout this entire development process. As with the selection of basic forms, the range of patterns is constantly evolving; depending on your wishes, an already existing pattern can be individualized, or a completely new pattern can be developed. The manufactory's production methods, which are based on pure handcraft and individual processes, make it possible to create even the smallest quantities or even a single piece according to the customer's ideas.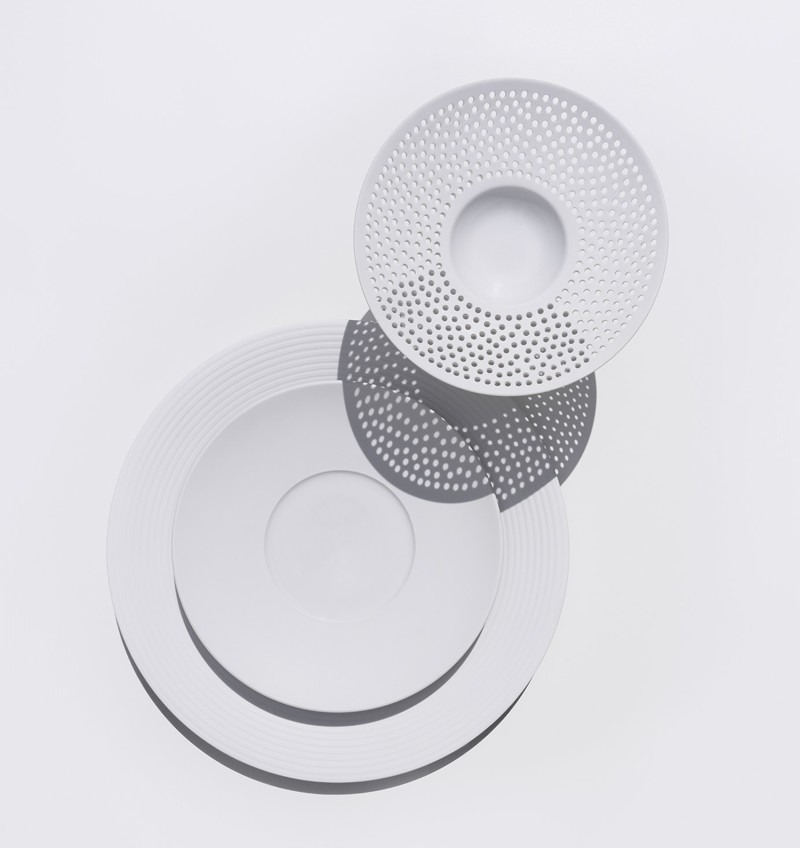 Product development
Product development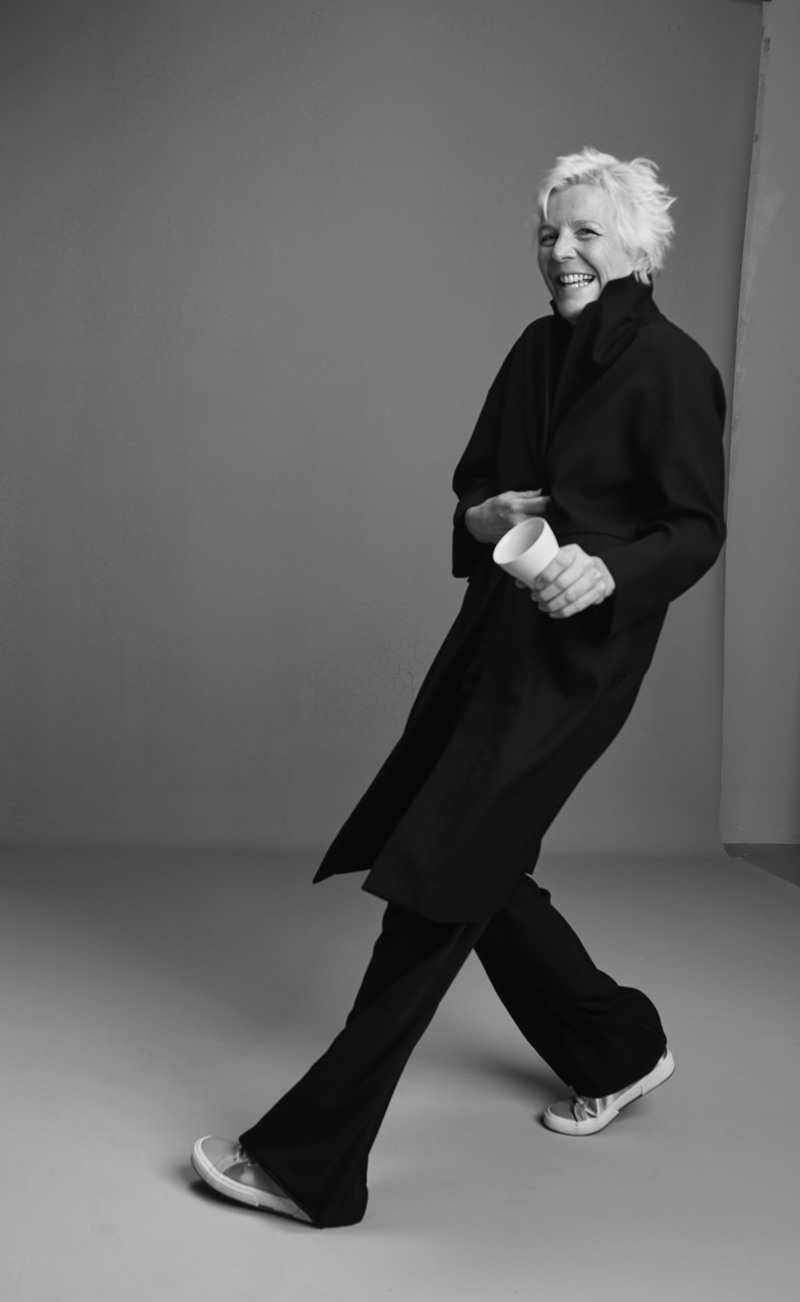 Stefanie Hering: Chief Designer with a special flair for customer requests
Hering Berlin can fulfil customers' requests in such an individual manner because company owner Stefanie Hering also manages product development, is the person behind the Hering Berlin designs, and as a trained ceramicist with a master craftsman certificate, thanks to more than thirty years of practical experience, knows the possibilities of materials and decors like no other designer in a comparable position. Her subtle instinct for the perfect relationship between form and decor turns your individual requests into porcelain objects of unique beauty.
Decor designing
Decor designing
Basic pattern - many individual possibilities
A favourite option, especially for customizing services, is to further develop an existing pattern – for example, with the animal-motif Collections "Ocean" and "Piqueur". The "Ocean" range includes 37 marine animals positioned in blue on the service's various elements. These motifs can be exchanged or even supplemented with other animals according to personal wishes. You can find an example of an individualized version of "Ocean" at Caviar House & Prunier's airport gourmet delicatessen bars: Their delicacies are served on a special edition of "Ocean" featuring sturgeon, sea urchins, triggerfish, lobsters and mussels. And a north-sea crab was used for individualized breakfast dishes for the Söl'ring Hof on Sylt. Another pattern example: "Piqueur" with its forest flora and fauna motifs was developed with star chef Harald Rüssel for his gourmet restaurant "Rüssels Landhaus" and can also be expanded to include other animal motifs.
A service, concisely adapted to the interior
It is also possible to adapt porcelain objects to an existing interior: For a hotel area decorated with artworks by Damien Hirst, a mixed form of the patterns "Orbit", "Garnet" and "Blue Silent" was created that precisely incorporates the artworks' colours and motifs.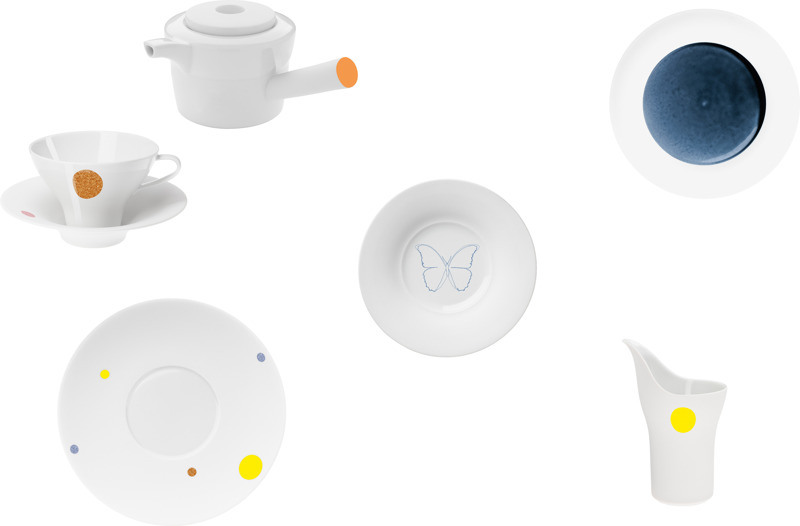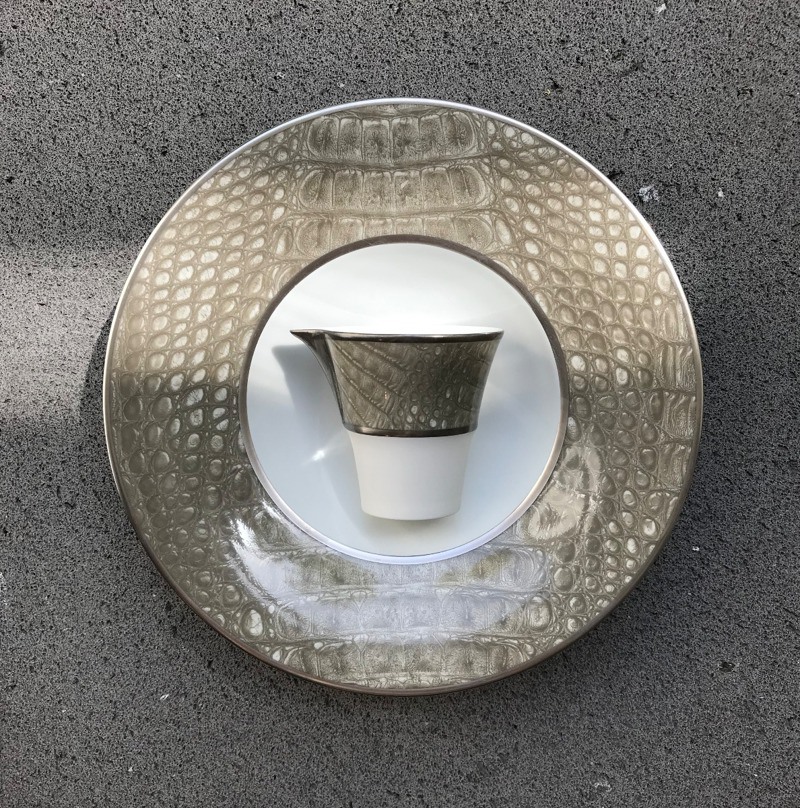 Iridescent special manufacture for an interior designer
A lover of expressive materials who relies heavily on reptile leather and corresponding prints both professionally as an interior designer and privately, wanted an individualized service to match his Fendi kitchen – and got a succinct, yet subtle implementation of this motif on the handmade bisque porcelain by Hering Berlin.
A dinner service dedicated to music
Even complete dinner services can be designed entirely according to customer requirements. For a music lover and his private apartment located directly next to an opera house, a pattern was developed entirely from elements of musical notation, from curly brackets to treble and bass clefs.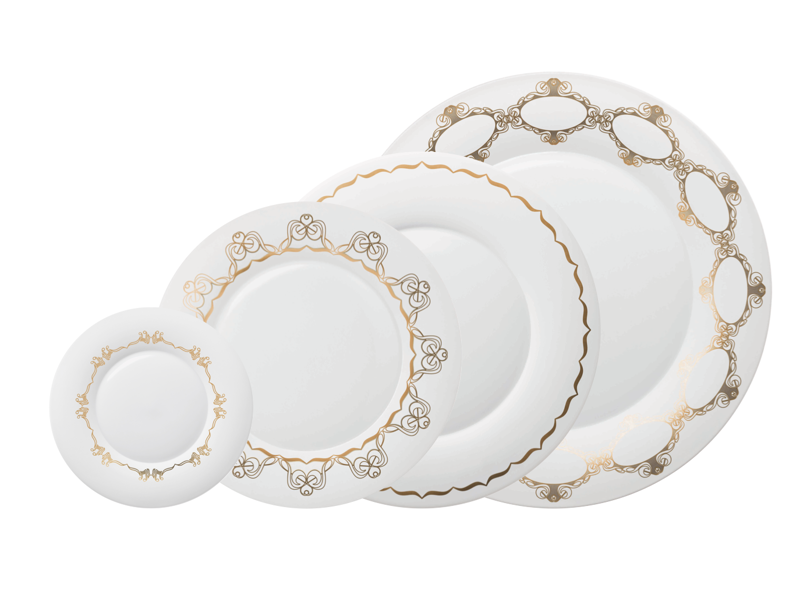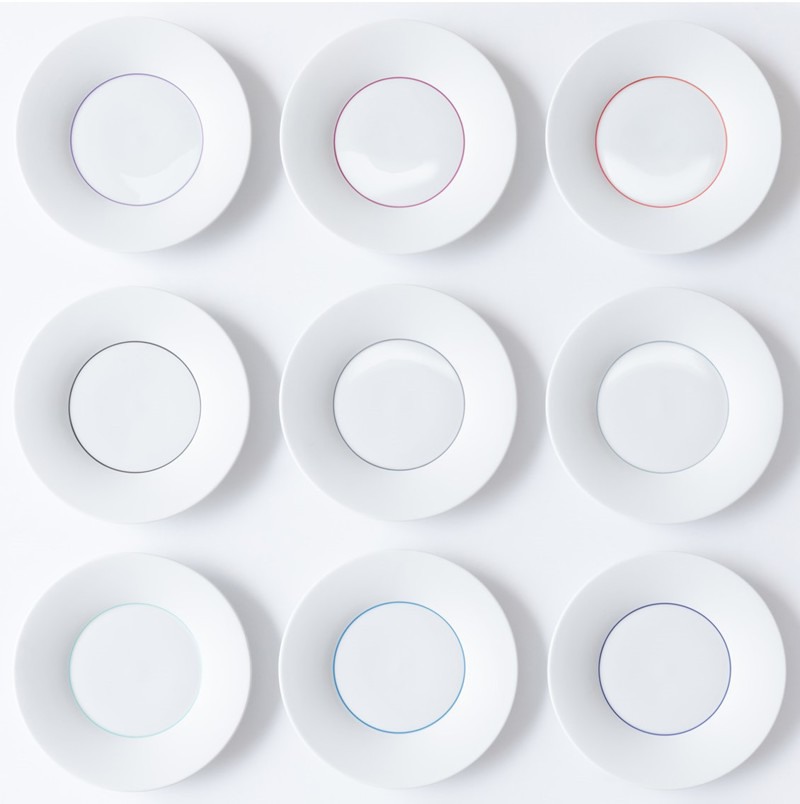 Accents in your favourite colour
The "Spectrum" line was developed especially for customers who want their favourite colour as a special highlight on the dining table – or who would like to complement a historic manufacturing service with pieces in a modern, yet corresponding design. Based on the collection "Velvet" made of handcrafted, finely cut bisque porcelain, it captivates through delicate colour lines. There are 14 expressive shades to be selected individually.
Interior Projects
Interior Projects
Special highlights for your interior
Particularly in interiors, which were composed of handpicked elements, special designs by the Hering Berlin manufacture can emphasize the features – both with handmade services and porcelain objects perfectly tailored to style and colour, as well as through the chandeliers of the series "Raydance". They are mouth-blown in the Glashütte Theresienthal and can be assembled individually from three basic forms and two colours – clear and smoky grey. In both porcelain and glass, we are happy to work directly with interior architects, interior designers and private clients, and turn individual ideas, as far as technically possible, into handmade objects.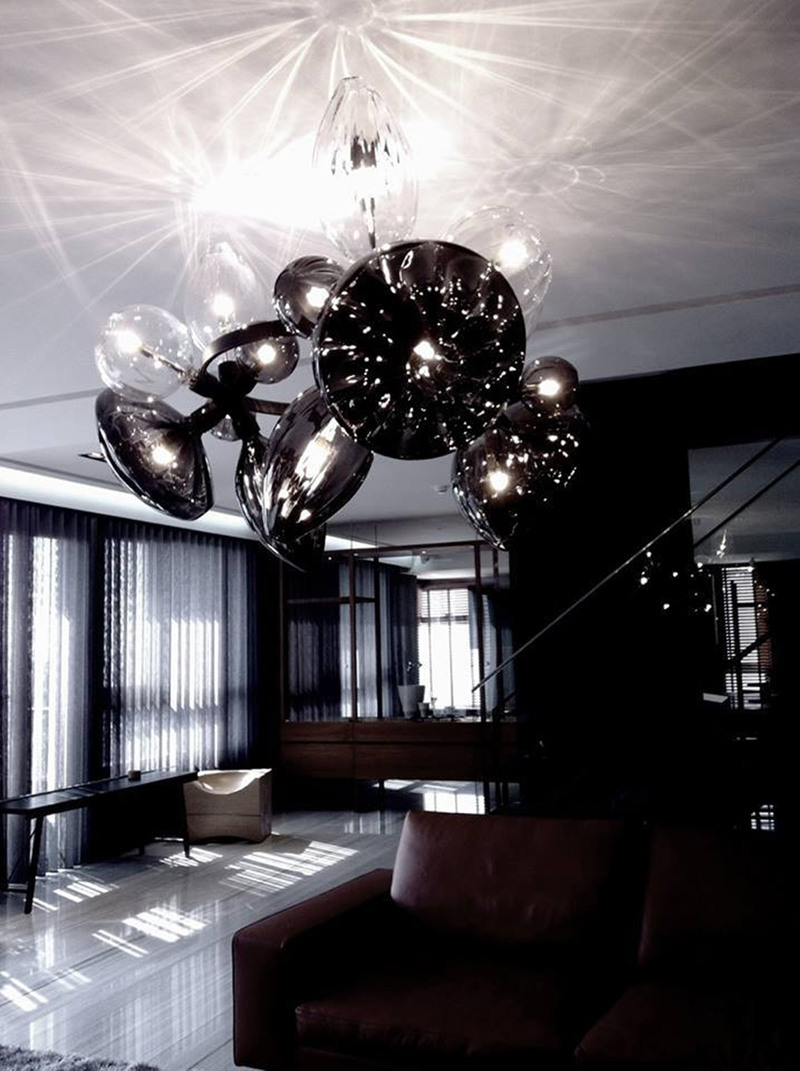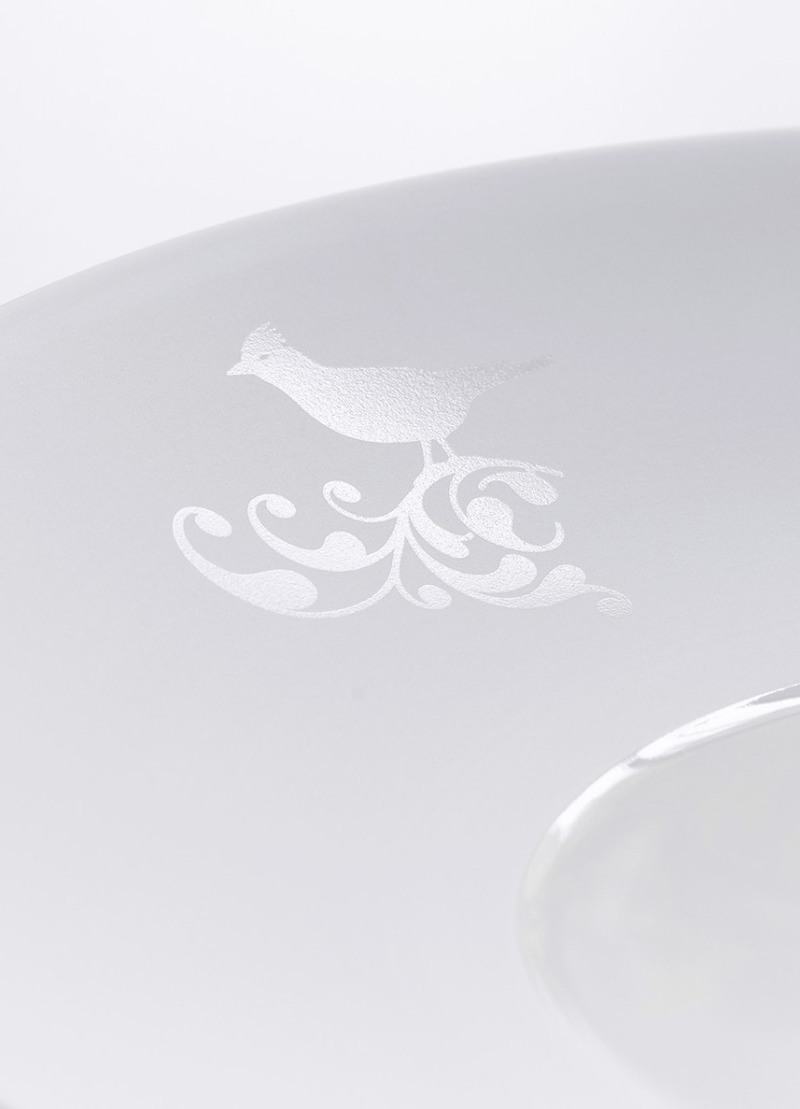 Monogram: A personal mark
There is hardly anything more individual than porcelain with a personal monogram or emblem. As a manufacturer, Hering Berlin is also able to offer extensive and varied design options in this area: The handmade service can contain painted or carefully printed initials, for example of newlyweds, as the only decoration or as an element embedded in one of the Hering Berlin patterns, as well as with company logos or symbols from a hotel or restaurant's USP. Company founder Stephanie Hering, who is also responsible for Hering Berlin's design and product development, also designs tailormade solutions to complex requests.
Branding on porcelain
Corporate logos frequently have highly decorative qualities. As a porcelain manufactory, Hering Berlin is not only able to put such pictures, characters or letters into a stereotypical, uniform imprint on porcelain, but to individually adapt them to the form and size of individual service parts. This is how – as a specially made service for a fine dining restaurant shows – a unique, varied porcelain design is created based on a simple logo.
Corporate gifts
Corporate gifts
Corporate gifts
A corporate gift made of handmade porcelain is a present that endures – because its high quality is noticeable in both the noble design and in the feel of hand-cut bisque porcelain. And because the gifts, on top of having an elegant look adapted to the client's requirements, have a use that recipients will enjoy for years to come. Talk to us: We will design your individual gift with you.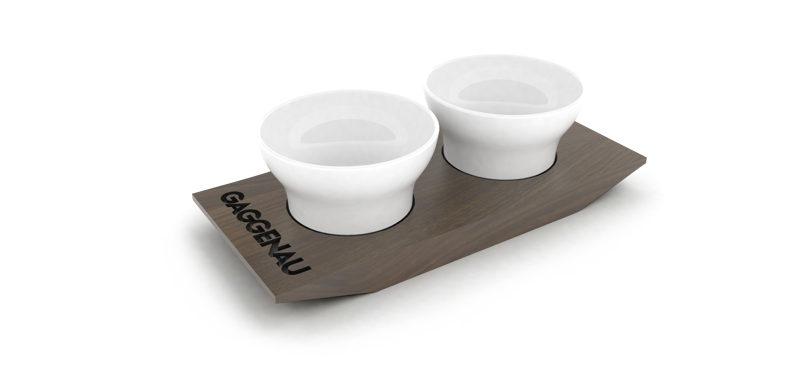 Prize trophies
Prize trophies
Trophy design
Winners and honourees will delight in trophy prizes made of handcrafted porcelain for more than just one evening: They are not only beautiful objects of great, optical and haptic appeal specially developed for the occasion. Thanks to their simultaneous high utility value, the recipients' trophies become a companion that is picked up again and again, reminding them of their performance for years to come.
Wedding gifts
Wedding gifts
Wedding gifts
The most beautiful day should be remembered for a lifetime. The foundation for this, of course, is a vibrant partnership, but gifts that are so beautiful and simple that you still pick them up after twenty years, make an indispensable contribution. A handmade service from Hering Berlin fulfils this task in a very special way: Despite the softness of the material, it is so robust that it can be used for both special occasions and every day. It is created in such simple, timeless forms that even after 20 years, you won't be able to get enough. Thanks to more than a hundred different forms to choose from, there are countless variations from which it can be compiled or later expanded and supplemented. And you can combine and individualize the pattern as you like, right down to the monogram. You can get in touch with our contacts especially for wedding gifts and wedding services at [email protected]